Dentist Muskegon, MI - Susanne M. Sanford, D.D.S.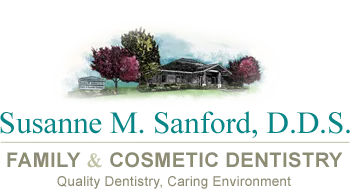 At the office of Susanne M. Sanford, D.D.S., we believe healthy smiles and a confident well-being go hand in hand. That's why maintaining a beautiful smile is more than regular brushing, it requires periodic professional care to keep teeth healthy for a lifetime...
Susanne M. Sanford, D.D.S., is dedicated to providing preventative, restorative and cosmetic dental care for her patients.
Take advantage of our modern dental facility and exceptional dental care.
Schedule your dentist appointment today. Call 231-733-5540.
Our Philosophy
Our doctor and team make the difference! We genuinely care for you, not just your teeth.
We are a warm and inviting office. We are committed to listening to your needs and providing information as well as education, so our patients can make informed decisions about their dental health. We do this in a relaxed and positive and comfortable atmosphere. We strive to make your visits as comfortable and pleasant as possible.
Patients want to come because they know they will be greeted with genuine smiles. Thank you, for visiting our site, and we look forward to seeing you.